One Sheet
The Bitter Roots: Press
Wedenesday June 15th, 2015 5:00PM PDT
TBRs NVF in the Press
Review of Noise Vibrations and Fumes on Modern Rock Review
The Bitter Roots are a Seattle-based group that has developed their own distinct brand of rock/pop as portrayed on their recent LP Noise, Vibrations and Fumes. Each track on this 11-song LP is a bit different from the last built upon strong, guitar-driven, rock-oriented sounds inspired by punk, metal, and garage rock, all accompanied by quirky, poetic lyrics.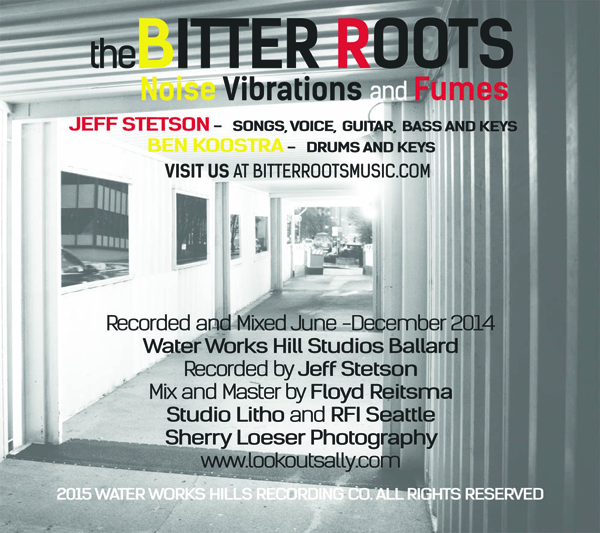 Saturday November 21st, 2015 3:00PM PDT
http://www.northwestmusicscene.com/2015/11/50-bands-in-50-days-day-10-the-bitter-roots/
Day 10: Formed in Seattle in 2008, The Bitter Roots have captured the hearts of the local rock scene with their soulful, mid-paced approach to alternative rock. Their high efforts have landed the band a two-time 99.9 KISW's Loud and Local Band of the Week award. The band's fourth studio LP, Noise Vibrations and Fumes, was released in March of this year, and was well-received by the band's deserved fan-base, and charted on college radio stations all across the United States.
Tuesday April 7th, 2015 3:00PM PDT
If we have a look at the songs, highlights are Fast and slow and Dairy queen, both nice uptempo The Jamish powerpoptracks, Butterfly baby, which has a sort of Seattle influence... This is definitely high quality stuff and feels like a real honest band, which could easily work its way up to higher places.
(Points: 8.3 out of 10)
- GABOR KLEINBLOESEM
Wedenesday March 11th, 2015 3:00PM PDT
TBRs CD release show - Seattle Weekly Pick of the Week!
The album title is inspired by the seemingly endless construction in Seattle. It's a hodgepodge of topics, but the duo's alt-rock sound is consistent.
- Gwendolyn Eliott
"Consistent" she says, thats good right?
Wednesday March 4th, 2015 11:00PM PDT
Wednesday March 4th, 2015 11:00PM PDT
Seattle band The Bitter Roots are all but set to release their 4th album "Noise Vibrations and Fumes". The band was recently featured as 99.9 KISW Seattle's Loud and Local Band of the Week for the 2nd time.
- Christian Hamilton
Wednesday January 28th, 2015 9:00PM PDT
A very big thank you to Jolene, BJ Shea and everyone at 99.9 KISW!
Tuesday, January 27th, 2015 05:00 PM PDT
Friday, June 6th, 2014 09:00 AM PDT
http://www.nodepression.com/interview/seattle-rockers-bitter-roots
Q: How would you say the Bitter Roots have evolved creatively over the years?
A: A: The songwriting philosophy for the Bitter Roots has stayed pretty consistent. I have a pair of Guild jumbo body acoustic guitars that I have written all the songs on. The overriding principal has always been can I break this song down to just me singing and playing on this guitar and still have it come off as something interesting. I am always trying to balance my hard aggressive rock tendencies with the prettier bits. Chiaroscuro, the light and the dark.
Saturday, July 27th, 2013 10:00 AM PDT
Family Ties Makes Indie Rock Cafe Top 10
Indie Rock Cafe Top 10 Songs
Each week, listeners determine the Top Ten Songs chart playlist based on which songs are streamed and downloaded the most from the previous week's posts.
Tuesday, July 15th, 2013 12:17 PM PDT
Seattle Times Sunday July 14 Print Edition
Via the My Ballard
Since this early connection to Ballard, The Bitter Roots have built both their sound and their fan base here in the Pacific Northwest. 2013 has been a great year for the band as they have been finding success and playing gigs all over Seattle.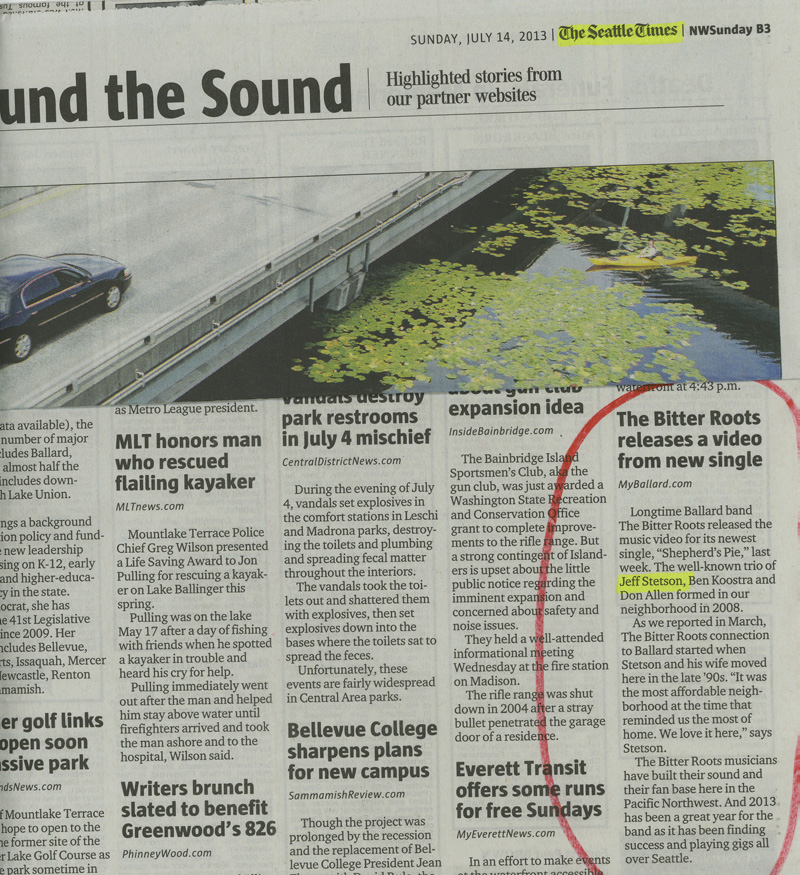 Wednesday, May 29th, 2013 5:17 PM PDT
Nice Review on Indie Rock Cafe
Indie Rock Cafe
The Bands That Rock playlist and profile series reviews rock bands, often DIY or under-the-radar, whose talents should not go unnoticed. Most of the bands in this series – as with many other of our playlist series – sent their music in for review. In fact, we receive close to, or more than, a hundred submissions a month. In the past, the Bands that Rock series has been popular with IRC readers, and this marks the fifth installment of this particular series, highlighting the bands Tsar, Dreamers, Eight Feet Deep, The Bitter Roots and The New Self Defense.
Thursday, May 9th, 2013 5:17 PM PDT
The Bitter Roots 99.9 KISW's Band of the Week!
BJ L&L BAND OF THE WEEK - THE BITTER ROOTS
Monday, March 11th, 2013 8:55 AM PDT
Nice Article on My Ballard Blog
The Bitter Roots on My Ballard
Local Ballard band The Bitter Roots released their latest music video "More Pretty" last week. The video was shot in Ballard and is the latest single for the band that formed in our neighborhood in 2008. - Danielle Anthony-Goodwin
Monday, March 11th, 2013 8:55 AM PDT
Review in Skrutt Magazine from Sweden
The Bitter Roots Chiaroscuro in Skrutt Magazine Sweden
The Bitter Roots starts out with a really tough song which is called For King and country which mixes metal and punk with classic rock in a really good way. In Soldier On I think about Dinosaur Jr and their distorted guitars and I am really positively surprised of this record. A little bit like a compilation of different artists but I like this and you never get tired of the record.
Wednesday, March 2nd, 2013 8:55 AM PDT
Review on Rock United
The Bitter Roots Chiaroscuro on Rock United
The sound of the album, overall, is vintage indie alternative and recorded live in the studio to analog tape Here and there, they'll remind you of Surferosa (the album) and The Church, and in parts, you can pick up a definite liking for Seattle's pride and joy aka Kurt Cobain. Not too shabby. - Wally Wallstrom
Wednesday, February 28th, 2013 8:55 AM PDT
Review from Strutter Magazine of the Netherlands
The Bitter Roots review in Strutter
THE BITTER ROOTS prefer the old fashioned more interesting way of recording, which is recording live to Analog Tape. The result is an all-original authentic recording that makes THE BITTER ROOTS a recommended band to check out. - GABOR KLEINBLOESEM
Wednesday, January 2nd, 2013 12:55 PM PDT
Review of the new record in the English Press on Planet Mosh
The Bitter Roots in the English Press
Good, fairly heavy guitars combine with smooth light vocals to create some very cheerful sounding rock music. There's plenty of variation in terms of pace and power, so there's a nice amount of diversity in the album which helps keep it interesting with repeated plays. - Ant May
Monday, November 19th, 2012 3:15 PM PDT
Interview in the Seattle Weekly
The Bitter Roots in Seattle Weekly
A lot went into writing your favorite song, but how much do you really know about it? This week Jeff Stetson, vocalist of Seattle soul rock band The Bitter Roots, delves into the "hidden costs of war," recording in Ballard and blues drumming. - Joe Williams
Monday, November 19th, 2012 3:15 PM PDT
Belgium Loves Us
The Bitter Roots on Roots Time Belgium
Seattle, USA. This city shows the ideal breeding ground for musicians who have rock music flowing in their veins and the feeling of something creative to do with it.- Freddy Celis
Wednesday, April 22nd, 2011 8:15 AM PDT
Moral Hazard review in Consequence of Sound
The Bitter Roots on Consequence of Sound
The Bitter Roots reach a high point, they really launch into the stratosphere. "Falling" glides on a descending acoustic arpeggio. The interplay between lead and backing vocals creates some excellent harmonies that gradually rise throughout the chorus. Due to the wonderfully low-key production, the entire song feels like it could have been played live in your living room. "Victim" acts as a heavy monster that explodes from a swampy intro and doesn't look back. Guitars growl around Stetson's darker-than-usual lyrics about someone turning themselves into a victim. It's an aggressively awesome presence... - Joe Marvilli
Wednesday, April 13th, 2011 12:15 PM PDT
The Bitter Roots in The Stranger
The Bitter Roots in The Stranger
A few months back, Stranger freelancer and regular nut job Travis Ritter asked Line Out readers what artists they thought were regularly overlooked by this paper's music department. The post got like 80,000 comments, and an overwhelming number of them mentioned The Bitter Roots. - Grant Brissey
Thursday, April 7th, 2011 10:15 AM PDT
The Bitter Roots in the Home town Press
The Bitter Roots in the Missoula Independent
Seattle musicians Jeff Stetson and Ben Koostra haven't lived in Missoula for over a decade, but there are obvious clues they're still tied here. For one thing, their band is called The Bitter Roots—a tribute to the Bitterroot Mountains. It's a catchy record, not necessarily classifiable but with some of the remnants—minor chord riffing and melodic yearning—that marked the early '90s era of underground rock. - Erika Fredrickson
Tuesday, February 1st, 2011 10:24 AM PDT
Moral Hazard Appears on German Blog
From Das Klienicum
dasklienicum.blogspot.com
A self-release "Moral Hazard" a new second record of finest quality, jeff stetson and ben koostra have worked together for many years; they live in seattle. - supported by rooster.
Tuesday, December 21st, 2010 2:24 PM PDT
Moral Hazard Reviewed on Belgium music site
Consequence of Sound Review
While some truly great music has been created through digital manipulation, the straightforward guitar, bass, and drum combination is more difficult to find in new bands. Luckily, The Bitter Roots are on the scene to make fans remember why classic rock is classic in the first place. - Joe Marvilli
http://consequenceofsound.net/2009/08/25/listen-the-bitter-roots/
Please the Press in Belgium
Here is a solid review from the land of Beer and Chocolate Roots Time Belgium
http://www.rootstime.be/CD%20REVIEUW/2010/AP1/CD42.htm
Influenced by the music of Bands like Led Zeppelin, The Beatles, The Smiths, The Cure, Cole Porter and Bob Marley, Stetson writes catchy classic sounding rock tunes recorded entirely analog that have that "live-on-tape" sound. Certainly some songs have hit potential - Freddy Celis
Review of February 12th Mars Bar Solo Acoustic Show
In a room full of chatter and the clanking of dishes, Jeff Stetson sits alone on a small stage. Unassuming in his jeans and short-sleeved tee, his smoky vocals command the attention of the room from the first line of his opening song 'Separate Boxes'. - Candace Kludt